Essay Holiday Cameron Highland
Cameron Highlands in Pahang is the biggest and arguably the best highland resort in Malaysia.  Popular amongst both locals and tourists, it provides a cool respite from the sweltering heat of the lowlands.    The sprawling lush valleys about the size Singapore has much to offer nature lovers.  My family stayed 2 nights in Cameron Highlands and did a full day local tour of the beautiful countryside.  We visited tea plantations, strawberry farms, Rose Valley, Lavender Garden, Bee and Butterfly farms, the Brinchang night market and more.  Here are 10 places to visit or things to do in Cameron Highlands.
1.  Tea Plantations
Visiting a tea plantation is the top thing to do in Cameron Highlands.  We visited the Sungai Palas Boh Tea Plantation which offered an educational tour of the tea factory.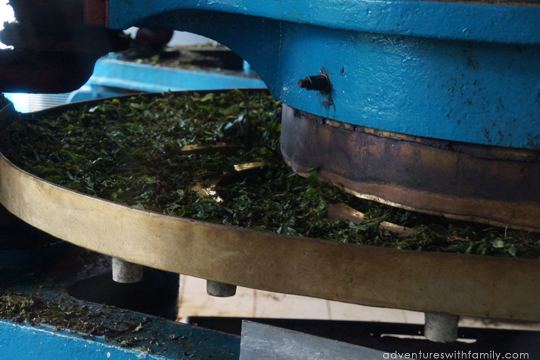 No visit to a tea plantation is complete without sipping a cup of tea while enjoying the view of the plantation.  We had a lovely English-style breakfast with aromatic tea, scones and pastries at the Boh Tea Centre at Sungai Palas.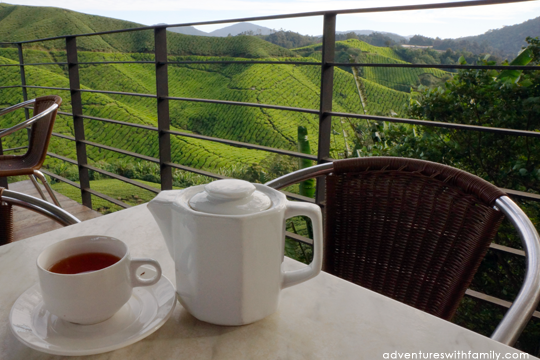 Here is a better view of the stunning vistas of rolling hills where the tea plantations are tendered.  Did you know that Cameron Highlands got its name from a British surveyor called William Cameron back in the 1800s?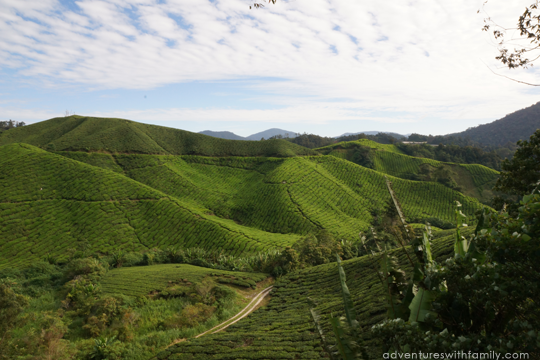 It is also worth exploring the scenery just outside the Boh Tea Centre.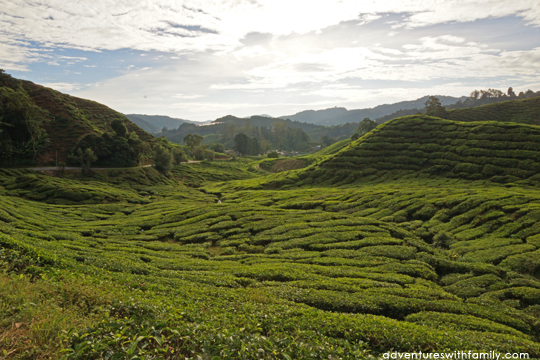 There was another Boh Tea plantation in Cameron Highlands which was further away from other attractions and where you have to traverse a windy road to get there. Definitely not suitable for my kids who would throw up or get a headache.  Apart from Boh Tea,  there were two other tea plantations  in Cameron Highlands – Cameron Valley and Bharat tea plantations. Both had tea cafés overlooking the plantation and stores to buy tea as souvenirs.  I especially liked the strawberry tea from the Cameron Valley tea plantation, pictured below.  Cameron Valley tea plantation was the easiest to get to, although the carpark was rather small.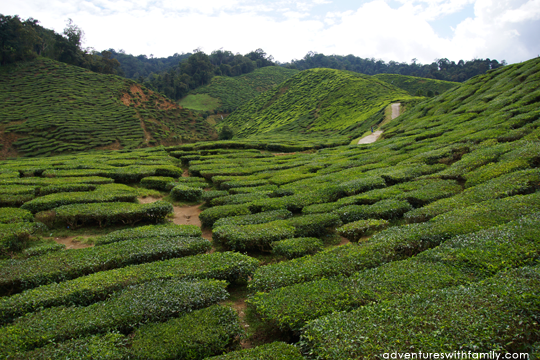 2. Strawberry Farms
The other top attraction in Cameron Highlands is the strawberry farms. With the need for a cool climate, strawberry farms can only be found in the Malaysian highlands. The rarity of such farms makes them rather attractive to locals as well as tourists from neighbouring countries.  Read more.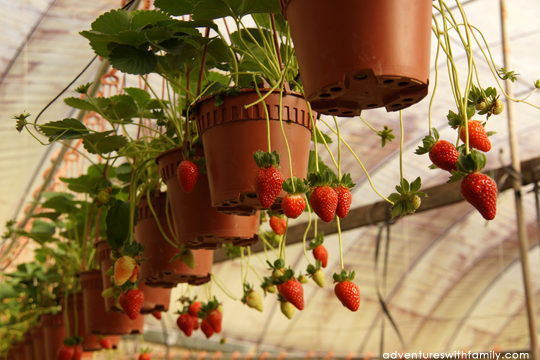 3. Rose Valley
Located at Kea Farm, a short distance from the Sungei Palas Tea Plantation, the Rose Valley is filled with more than 100 variety of roses and other types of flowers. The Rose Valley is perched on slopes along a small hill. Flower lovers would enjoy the Rose Valley.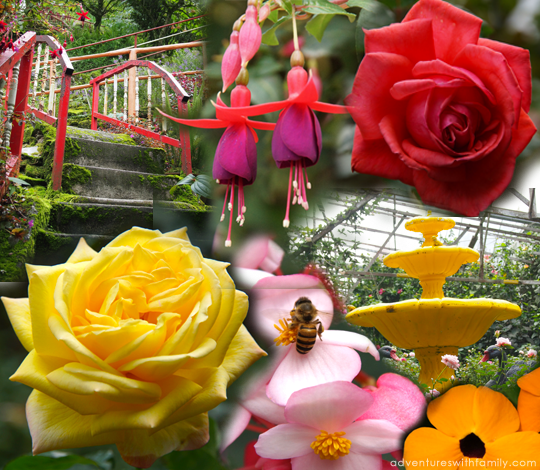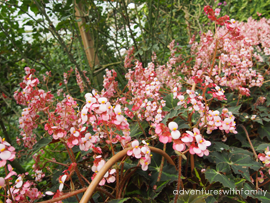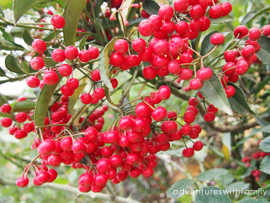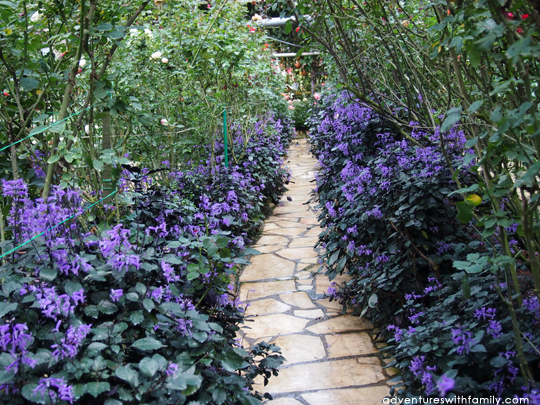 4.  Cameron Lavender Garden
More flowers bloomed at the Cameron Lavender Garden.  As we entered the garden, we saw a sea of purple, red and yellow flowers sheltered under a large canopy.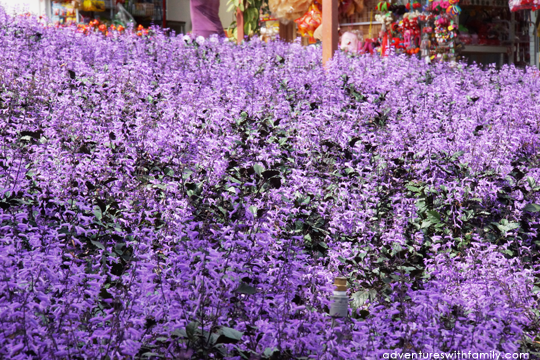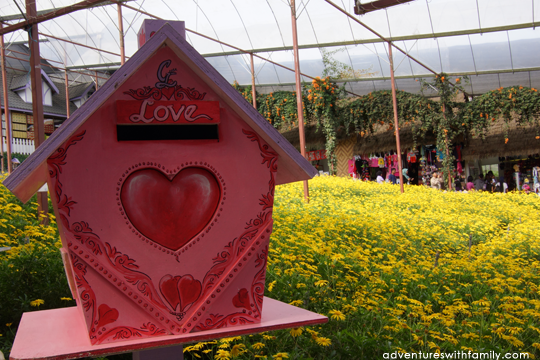 On the higher slopes,  there were rows and rows of gerberas in all sorts of colours.  Visitors could also pick strawberries there.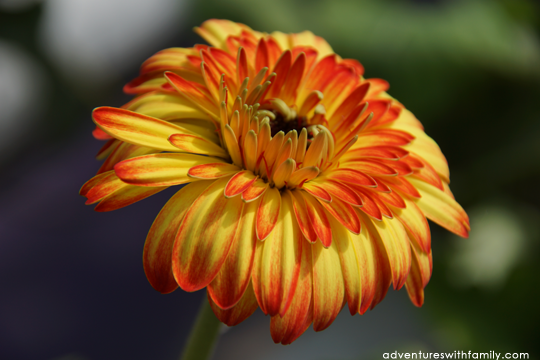 5. Vegetable Farms
Our local day tour also brought us to visit the Watercress Valley, and a local vegetable farm that grew tomatoes and cauliflowers.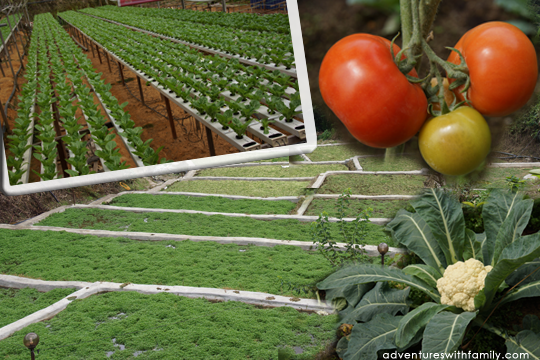 6. Bee and Butterfly Farms
Apart from flowers and vegetables, Cameron Highlands also has Bee Farms and the Butterfly Farms.  See more pictures of the beautiful butterflies and bees here –  Cameron Highlands Bee and Butterfly Farm.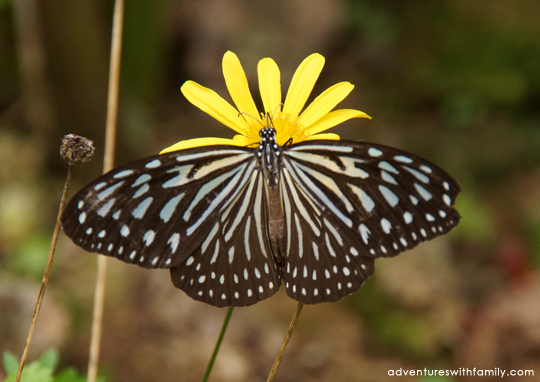 7. Cameron Highlands Time Tunnel
The Cameron Highlands Time Tunnel is a local museum with lots of vintage items and memorabilia.   At first, I didn't think we would enjoy the Time Tunnel much, but to my surprise it was actually quite educational for the kids.  My trio kept asking "What's this?", "How does it work?" or "Why?"  There were also things that I haven't seen for ages and have totally forgotten about them, like the old light switches.  The Time Tunnel even had a photo of Singapore's father and son PM,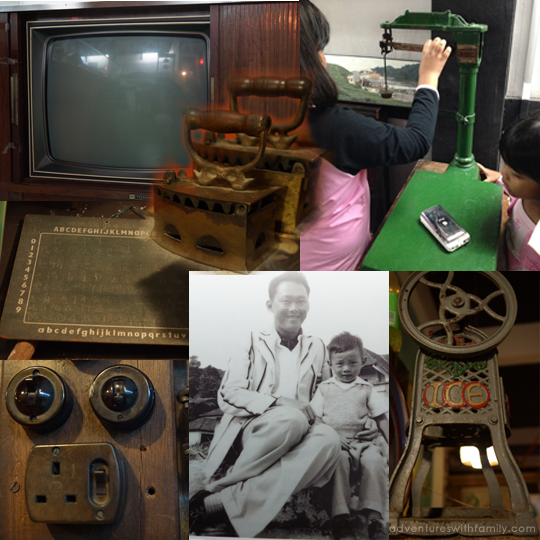 8. Sunrise on Gunung Brinchang & Mossy Forest
Something really worth doing while in Cameron Highlands is waking up at around 4.30am, drive up to the top of Gunung Brinchang, climb up a watch tower with the cool crisp wind blowing at your face, and wait patiently while the sun reveals itself and the spectacular scenery.  Read more.
9.  Brinchang Night Market (Pasar Malam)
We went to the Brinchang night market (locally known as "Pasar malam") near Star Regency Hotel.  It normally opens on Fridays and Saturdays but during Malaysian school holidays, it opens every night.  Local produce like  strawberries, vegetables, and fruits were sold in abundance at the night market.  There were also many stores selling vegetable fritters, crab fritters and prawn fritters. One thing to try was the corn with the white kernels.  The white corns could be eaten raw and surprisingly, it was sweet!  Apart from food, there were lots of value-for-money stuff and souvenirs on sale.  If you are driving, you need to go there early to find parking.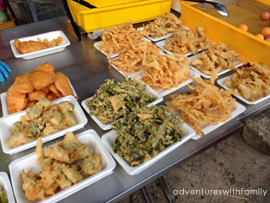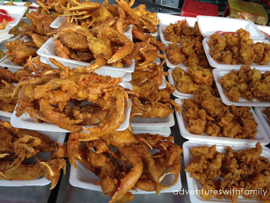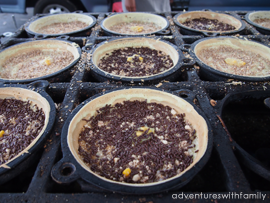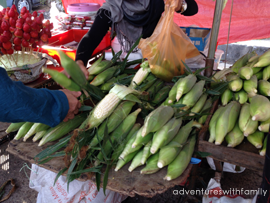 10.   Enjoy the local delights
Apart from the food at the Brinchang night market, steamboat restaurants seem to be quite a hit in Cameron Highlands.  We only ate at the steamboat restaurant once, though.  Most of the time, we ate the local food fare there.  Our favourite was Nolina food.  The food was cheap and good.   Try the blue nasi lemak with sambal chicken.  Nolina Food was just 5 minutes from Copthorne Hotel at the bend towards the direction of Ipoh.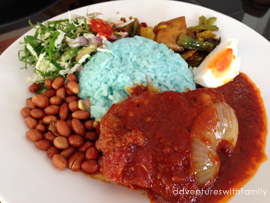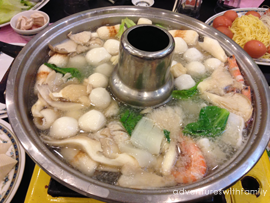 Tips on visiting Cameron Highlands
If you are thinking of visiting Cameron Highlands, here are some friendly tips.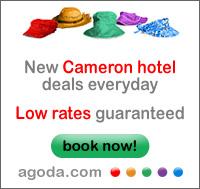 If you are coming from the North-South highway, drive up from Ipoh instead of from Tapah.  The road from Ipoh is less windy than the one from Tapah.
Don't plan on visiting the Sungai Palas Tea Plantation on Monday because they are closed.
Do consider joining local tours, especially to the Boh tea plantations and Gunung Brinchang, if you are not comfortable driving or if you don't want to risk damaging your car.  The road was too narrow for bi-directional traffic.  Other attractions were easier to drive to.  I joined the local tour CS Travel and Tours which I booked from the Hotel travel desk www.cstravel.com.my.
Don't plan on going strawberry picking in the afternoon, especially after other tour buses have come and gone.  There won't be much red and juicy strawberries to pick.  Try going for one which only opens on certain days a week (e.g. Thursday-Sunday). Go on the first day and first hour of the opening to get the best pick of strawberries.  I went to the one just outside Copthorne Hotel on Thursday morning when they just opened for the day and got the best pick of plump and juicy strawberries.
There are many accommodations that can fit a family or group of 4 or more. I would have considered apartments, but I was travelling in a bigger group, so I had to find accommodations that could fit the whole group in multiple rooms. The ones I considered were:
We also went to enjoy the hot springs at the Lost World of Tambun, Ipoh, Malaysia before going to Cameron Highlands.
We went for a family trip to Cameron Highlands for a 3D2N stay (5th-7th Feb) with Mah-mah, Yeh-yeh, Koo-koo, Koo-jeong and Hayley jie-jie over the long weekend. We started our journey on Sunday morning and the eight of us went in two cars. We headed to Ipoh for breakfast as planned and packed an assortment of Ipoh goodies up the hill resort for lunch.
Traffic was good all along the way until the final 6km of our journey. Inching uphill at snail's pace, it took us about 1.5 hours to move 6km to get to the Equatorial Hotel. Traffic jams and crowded places aside, the trip was overall good and enjoyable. Here are the highlights of the trip...
Had "donkey noodles" (hor hee) for breakfast in Ipoh... I call it the donkey noodle because "hor hee" sounds like a donkey's bray haw-hee-haw-hee-haw when it is repeated multiple times haha!
Checked-in to our Vacation Club's 2-room apartment at the Equatorial Hotel where we had our lunch of Foh San dimsum, egg tarts, JJ swissrolls and Pusing rice dumplings ... all tapau-ed from Ipoh
While the rest of them stayed at the apartment (which could only accommodate 4), daddy, mummy and I stayed at the newly refurbished hotel room :p
The traffic there was so bad that we didn't dare to drive anywhere. Luckily the Kea Farm was just a 5-minute walk from the hotel. We even had our dinner in a restaurant just within the hotel compound.
Checking out some of the stuff at a stall in the Kea Farm market
A strawberry popsicle treat
At the main entrance of the hotel lobby, ready to go for dinner. The weather was cool and just nice.
Dinner time... steamboat and bak-kut-teh to warm us up
Day 2 - Family breakfast at a coffeeshop in Brinchang
Some of the food that we had
We visited the Smokehouse... but they didn't welcome non-patrons so we just "lepak-ed" outside
Hayley jie-jie and I were fascinated by something on the wooden bench there...
A newly metamorphosized butterfly!
At the park in Tanah Rata
Sitting on a giant corn!
Got playground, will smile :) We spent about an hour here. It was scorching hot and some of us got sun-burned.
From playground to tea plantation... very scenic! (Bharat tea plantation)
Let's go down for a tea-plantation walk!
Daddy and I walked down to explore... and I asked "Is this a giant maze?" Hahaha!
Happy family :)
Tea-time! (at the Bharat Tea House)
More snacks... yummylicious strawberry waffle with vanilla ice-cream at Glory 78
Mummy, look! I see little fishes in the little pond
At the children's playground in Strawberry Park Resort
Colourful cacti at Cactus Point (a flower and cactus nursery)
Thorny beauties... different types of cacti all planted in one pot
Rows and rows of pretty flowers in the nursery
Day 3 - Walking on the deserted street of Kea Farm. Unfortunately, at almost 8am, the stalls were not opened yet. The early bird had nothing to catch! :(
We left CH soon after the ladies' morning marketing in Kea Farm. Stopped at the Iskandar Waterfalls on our way down to Tapah.
Lunch at Bidor before heading home to PJ... I had wantan mee (my favourite) as usual.